Cheryl VanSchyndel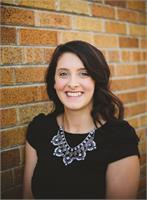 Licensed Massage Therapist

1. Why would someone choose Tranquility Spa?
Instead of going to a spa that treats you like a business transaction, Tranquility Spa strives to make your experience a home away from home atmosphere. As a team, we perform our services with extreme quality and care!
2. What makes you feel beautiful inside and out?
I feel most beautiful when I'm surrounded by loving people and being able to share my talents with someone in need! When I can get a tension spot out of someone's shoulders or relieve some of the stress people carry around everyday..to me, that is the best feeling in the world!
3. How would your clients describe you and your style?
My clients would describe me as a down to earth, dependable therapist. I customize each session so my clients can leave the spa feeling refreshed and relaxed. Massage is such a great experience, both physically and mentally, and I aspire to make each session a great one!
4. What is your Spa Specialty/Niche?
Throughout my time being a therapist, I've had different favorite techniques in massage therapy. But my constant favorite is always a relaxation massage. The serene look of relaxation on a client's face after a session is the best compliment I can receive! :)
Cheryl VanSchyndel is currently not instructing any classes.