Alyssa Treadway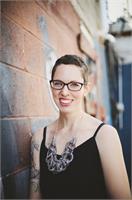 Licensed Nail Technician

Licensed Esthetician

Makeup Artist

1. Why would someone choose Tranquility Spa?
Tranquility Spa is a place to come where you can be comfortable, be yourself and enjoy an atmosphere of home like qualities. Also we have staff that will provide great and caring treatments. You will always be treated like family.
2. What makes you feel beautiful inside and out?
I feel beautiful when surrounded by people that have great energy, and we can share laughs and just be ourselves.
3. How would your clients describe you and your style?
I think they may describe me as 'real'. I am a little quirky and yet very caring. They might also say that I am very meticulous.
4. What is your Spa Specialty/Niche?
Polish on Steroids as a manicurist, Body Wraps as an Esthetician and Lash Extensions as a Lash Stylist!
Alyssa Treadway is currently not instructing any classes.